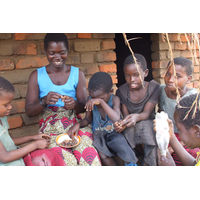 January 2023 greetings to our Friends of Malawi community! As the current president of our all volunteer board, one of my tasks is to share an annual report on F.O.M. activities and plans - so I write you today with some notes on the last year, and some of our hopes moving forward.
Just as in the wider world, the last few years have been different for Friends of Malawi. Our historic reason for being is deeply connected to the Peace Corps Malawi mission, and the spirit of Returned Peace Corps Malawi volunteers. But since the start of the COVID-19 pandemic in 2020 there have not been any US Peace Corps volunteers in Malawi, and we've had to improvise.
So the best news I have to share is that Peace Corps Malawi is again accepting volunteers - starting with Peace Corps Response volunteers (which are the shorter-term "high impact assignments" for experienced professionals) projected to start serving in the second half of 2023. Peace Corps worldwide has also been gradually ramping up the traditional two year volunteer opportunities, and we hope that will include opportunities in Malawi in the near future - though nothing is publicly confirmed there yet.
In the meantime, Friends of Malawi has been continuing to find creative ways to fulfill the three primary purposes in our by-laws: informational programming, promoting cultural relations, and small grant support to projects in Malawi.
We have a great group of volunteer board members working on communications, and helping us shift our information sharing and cultural relations to shorter email blasts and social media posts (rather than longer paper newsletters). In the second half of 2022 this led to fun opportunities such as learning about several memoirs of Peace Corps Malawi service (by Jack Allison and John Fleming), about Malawian artists such as Tendai Shaba, and other relevant bits of news and information. We hope to keep these email blasts and social media missives coming on a regular basis in 2023, so feel free to connect with our communications group with ideas and updates (fomcommunications1963@gmail.com).
There is also a small group of F.O.M.'s volunteer board working on distributing small grants from funds generated by the generosity of our community in recent years. Our granting priorities are guided broadly by connecting to the Peace Corps mission, and because we only have small funds available that has often worked best through small supplemental funding for projects and communities that have hosted Peace Corps volunteers. Without Peace Corps volunteers on the ground for the last few years, we've had to lean into other partnerships and have found several that are particularly promising.
For one, at the end of 2022 we funded several projects that were vetted and supported by World Connect Malawi - an organization recommended to us by the Peace Corps Malawi office as a group that has long partnered globally "with Peace Corps Volunteers and community leaders to fund locally designed and led projects across the world to improve health, increase access to education, especially for girls, advance economic opportunity and protect the environment." Friends of Malawi was able to aggregate our many smaller contributions to provide full funding for two well considered projects: a community based organization block through the Chilembwe Village Development Committee that will allow for an under-5 clinic, a nursery school, and space for other community projects; and a classroom block project in Ntchilamiro village in Zomba district that was generated in collaboration with a CorpsAfrica Volunteer.
Which is a nice segue to our other promising partnership, as we've had generative discussions with the CorpsAfrica Malawi office about ways to support small projects initiated by their volunteers - a group comprised primarily of Malawians interested in serving in a Peace Corps-like role their own country, along with some nationals from other African countries who come to Malawi to serve. CorpsAfrica Malawi has an annual "pitch competition" for their volunteers who have connected with community leaders and gotten training in small grant writing - and Friends of Malawi has hopes of funding several of the 2023 projects from that competition that seem most impactful.
In addition, we have continued to provide small grants to several of our ongoing partners - including the Maziko Preschool project (which was featured in a September 2022 news update), and Village X - a non-profit led by former FOM board member Mike Buckler. In the latter case, we were able to aggregate funds to complete the needed funding for a solar station in Kapende Village.
Making all this work possible has been the ongoing help of a volunteer board comprised of people who care deeply about Malawi - so I thank my board colleagues Eugene Caruso, D'Lynn Jacobs, Dave Joch, Maurina Makwakwa McLain, Catherine Pargeter, Sarah Swenson, Fides Ushe, and Bright Vandervoet for their good work. And I also welcome any interest or questions from our members as we proceed with our mission in 2023, and look forward to the next evolutions of our intentions to be good Friends of Malawi.
Zikomo!
Andrew Guest
---